Finland is a country known for its cold and snowy climate. However, besides an amazing winter, it also has an enjoyable summer season. During summer, which spans from mid-May to October, Finland offers many kitesurfing spots, both on its lakes and along its coastline, and in the snowy season we have even more places to explore.
Spots & Events
Undeniably the number one kitesurfing spot in Finland is the Hanko peninsula, which has a 130 km shoreline and kilometers of sandy beaches. Hanko offers ideal wind conditions for kitesurfing, with steady winds blowing mostly from the southwest. Hanko also provides various spots for all other wind directions except the Northeast, making it a versatile spot for kitesurfers of all levels. Additionally, The KiteLife WKND (last year's event page is in Finnish) event (in Hanko), held annually in June, features kitesurfing competitions and fun activities, attracting participants from all over Finland and potentially worldwide also, to enjoy excellent conditions and social atmosphere.
Another popular location for kitesurfing is Yyteri beach in the city of Pori, which offers excellent wind conditions and long stretches of sandy beaches. Oulu's Hietasaari beach is another great option, known for its wide open waters and different wind conditions, making it suitable for kitesurfers of all skill levels. In addition to these popular spots, there are many other beaches and lakes around Finland that offer great conditions for kitesurfing, such as the locations mentioned below and many others in the beautiful archipelago in the southeastern part of Finland.
If you're planning to visit any of these locations, it's helpful to have a map to make it easier to find the best spots. Here are the links to the maps for each of the locations mentioned above and, some more: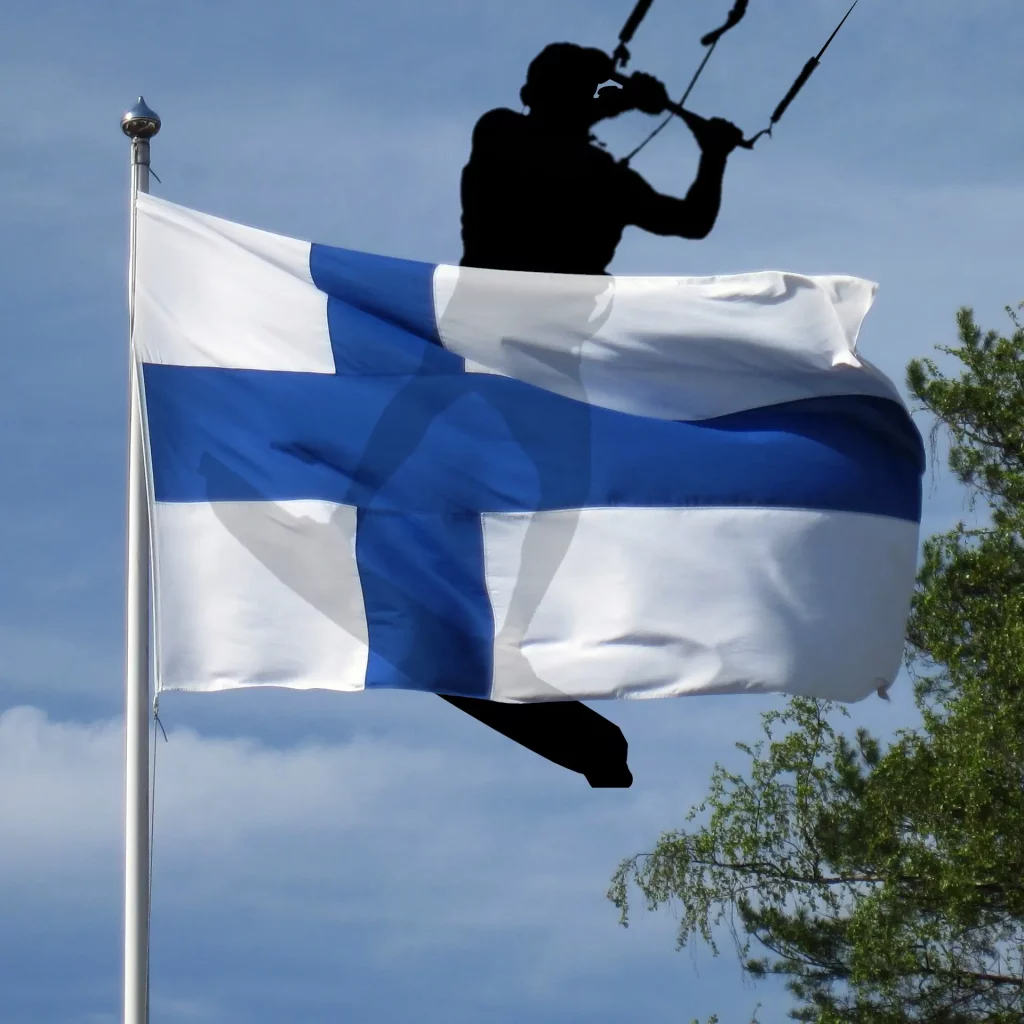 Please ask for possible restrictions and spot info from "Kitesurfing Finland" -Telegram group
In addition, for those who enjoy kitesurfing in winter, Finland offers excellent snowkite possibilities. Many icy lakes and fells of Lapland are perfect for snowkiting, offering a unique and unforgettable experience. Pallas Kiteweek, which takes place every February in Lapland, is a yearly event that brings together snow kiters from around the world to enjoy the pristine winter conditions and unforgettable sceneries of Lapland, often with Northern lights (aurora borealis).
Schools and gear rentals
If you're interested in kitesurfing in Finland, there are a few kitesurfing schools and rental places, with Lappis and Leijasurffaus.fi being some of the most common options. They provide both lessons and rental equipment, so you can easily get started with the sport, even if you're a complete beginner. You might want to check out other schools also that you can find here (the page is in the Finnish language, but google translate will do the work).
Seasons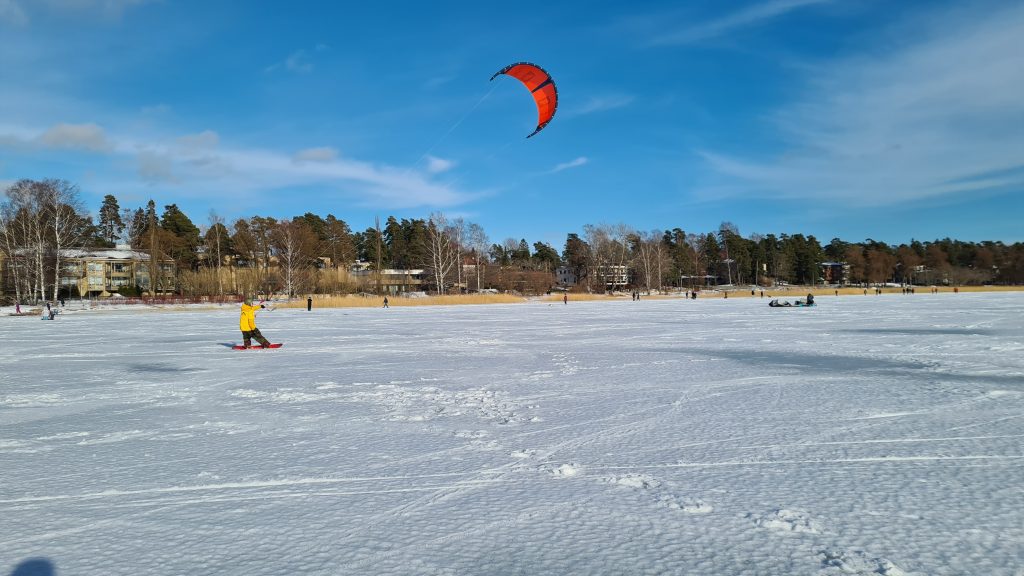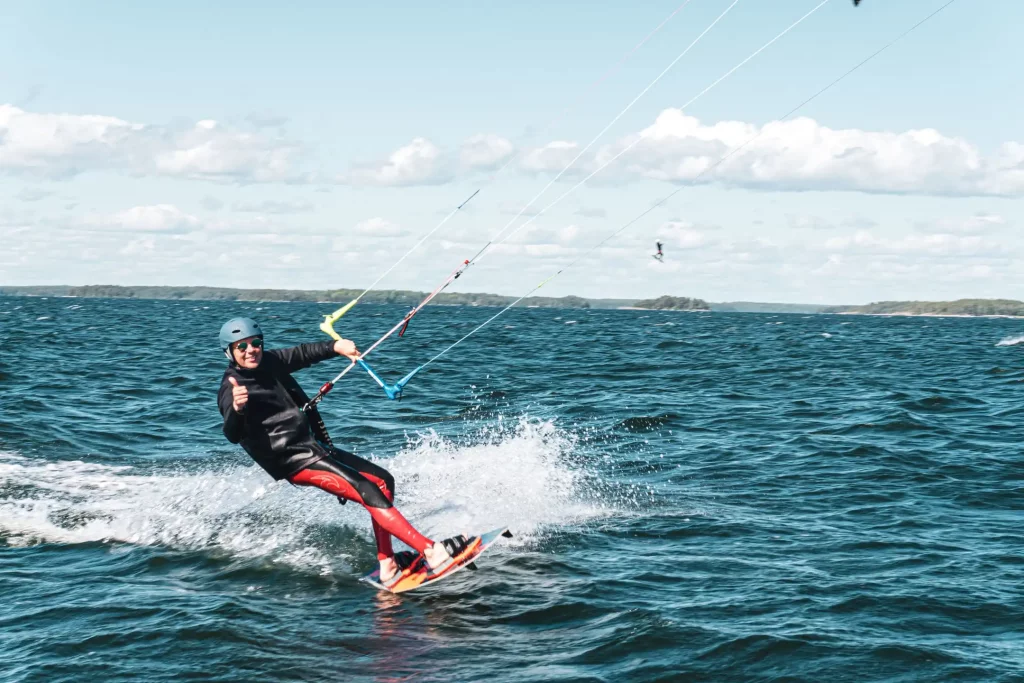 The water season in southern Finland typically runs from the end of April to the end of October, with recommended wetsuit thickness ranging from 5 to 6 mm from April to mid-June, and 3 to 4 mm from mid-June until mid-September. The winter season in southern Finland usually starts from mid-January to the end of March, with occasional extension to mid-April. Meanwhile, the winter season in Lapland, located in the northern part of Finland, is much longer, with excellent snowkiting opportunities continuing all the way to mid-May, that attract snow kiters from around the world.
If you're looking to stay up-to-date on all things kitesurfing in Finland, there's a great resource available in the form of the Telegram channel "Kitesurfing Finland". This channel is a community-driven platform for sharing information, experiences, and tips related to kitesurfing in Finland, including winter kiting. Members of the channel can share updates on weather conditions and recommend spots to check out. Whether you're a seasoned kitesurfer or just getting started with the sport, the Kitesurfing Finland Telegram channel is a valuable resource for anyone looking to explore Finland's kitesurfing scene.
About Finland
Finland is known for its hospitality and friendly locals, and most people speak English, making it easy for tourists to get around and communicate with locals. In terms of the price level, Finland is considered to be on the higher side, with accommodation, food, and activities typically more expensive than in other European countries. However, there are still affordable options available, especially for those willing to stay in hostels or campgrounds. Visitors can also find various types of accommodation, including hotels, Airbnb, apartments, and cottages, catering to different budgets and preferences. It's worth noting that prices in Finland can vary depending on the season, with the peak tourist season generally being the summer months of June to August and During the winter time in February. Overall, Finland offers a unique and unforgettable kitesurfing experience, with a great combination of beautiful landscapes, versatile conditions, and friendly locals.
Traveling in Finland
Traveling within Finland is relatively easy, thanks to the country's well-maintained transportation infrastructure. The national train company, VR, operates trains throughout the country, offering both regional and long-distance routes. Buses are also widely available, and companies like Matkahuolto and Onnibus offer affordable rates. Additionally, Finland has several regional airports that offer domestic flights to cities and towns throughout the country. Helsinki-Vantaa Airport is the main international airport and serves as the hub for Finnair, the national airline. Whether you choose to travel by train, bus, or plane, you can expect comfortable and efficient service.
Safety and Security
Finland is known for its safety and security, with a low crime rate and efficient emergency services. The country is generally safe for travelers, both in terms of violent crime and petty crime. However, travelers should still exercise basic caution and take necessary safety precautions, such as keeping valuable belongings secure and being aware of their surroundings. It is also important to note that Finland is susceptible to extreme weather conditions during the winter months, which can pose safety risks for those traveling in rural areas or engaging in winter sports. Nonetheless, by being prepared and informed, travelers can have a safe and enjoyable experience in Finland.
Overall, whether you're a seasoned kitesurfer or just starting, exploring Finland's kitesurfing scene is an unforgettable experience. And with the help of the Kitesurfing Finland -Telegram channel, you'll be equipped with the knowledge and resources to make the most of your trip. The channel is not only a valuable resource for seasoned kitesurfers but also for beginners who are looking to learn more about the sport. The channel offers a friendly and supportive community that can help answer any questions and provide advice on topics related to kitesurfing and spots in Finland. And don´t get confused, the channel is mainly in the Finnish language, but if you ask in English, be sure you will get plenty of answers to cover your question.
Welcome to Finland – Team Leijasurffaus.fi